CONTACT
Person to contact:
Dr. Hans Joachim Tröbinger
Via dei masadori, 16
IT-38121 Gardolo
+39 0461 993099
+39 0461 956343

Fast contact
OVERVIEW PRODUCT PORTOFOLIO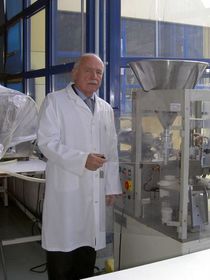 This summary is by no mean complete but aims to give you short overview of the range of products we are producing and to show you the possibilities you have to realize your idea of product line with us.
Please contact us to discuss your ideas. We can develop these products for you and produce them (including the EU-notification) on the base of your or our formulations.
The product-portfolio applies to our full-service, filling or bulk-production program. We follow your wishes and necessities.
Some examples of products in our portfolio:
Creams:

Thermal water
Edelweiss (anti-aging)
Marigold
Arnica
Thyme
Devil's claw
Greenhouse
9-herbs
Honey
Juniper
Sage
Sun protection
Masks
Serums
Concentrations
etc.

Liquids:

Shampoos
Shower gels
Tonics
Gels
Liquid soaps
Lotions
Body milk
Hair tonic
etc.

Fragrances:

High quality perfumes for ladies and men
Fragrance extract
etc.

Face and mouth toiletry:

Toothpaste
Mouthwash
Shaving cream
After shave
etc.

Furthermore:

Thermal products
Mud
Peeling-gels or-creams with natural granules
Compact wax emulsions
Sugar and salt-peelings
Wrapping gels
Bath additive
Deodorants
etc.

Make up:

Lip care sticks
Nail polish
Mascara
Powder
etc.